TEHYA
January 15, 2010-
---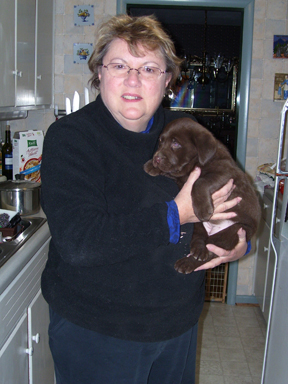 Tehya is our second Chocolate Lab. Susan wanted another after we lost tessa in November of 2009. "Dry Run Tehya Paloma of Westover" was born at Dry Run Retrievers in Montgomery County, Virginia.
The "Paloma" part was added to her name by Susan's niece, whom we took on a dove shoot in Argentina just before we brought Tehya home from the kennel on March 13, 2010. Both her mother "Godiva" and her father (a bruiser whose name I never did get) were large dogs, and the end product was a BIG Lab—half again as large as our late Tessa.
Chocolates are universally regarded as the dumbest of the three colors of Labs, and Tehya is no exception to this rule. We brought her home as a 7- or 8-week old puppy, and unlike Tessa, who was an angel from the first day, Tehya was a perfect hellion. Not that she wasn't biddable; it's just that she is somewhat intelligence-deficient and housebreaking her was a bit of chore. She managed also to gnaw the leg of a $700 chair while she was teething.
She has always taken very seriously the Labrador Retriever's Code of Ethics:
If it moves, chase it.

If it stops, kill it.

If it isn't moving, eat it.

Just because something something seems to be inedible, that doesn't mean it is. Eat it anyway and see what happens.
The very first night we had her, she ended up in the ER at the vet school, with an advanced case of "rubber band-itis" that caused bloody diarrhea and vomiting. A little later into her puppyhood she ate a fishing lure, complete with hook, necessitating another ER trip and an overnight stay at our local clinic. True to form, she passed the damned thing intact, and I imagine she never was aware of its presence. Over the years she's mellowed somewhat. She believes that she has two responsibilities: first, keeping the covers from sliding off the bed at night; and second, allowing Lucy to chase and catch a Frisbee, bring it all the way up the hill, and carrying it to me the last 15 feet to get a reward.
Big, dumb, and lazy, she is nevertheless a very nice dog to be around, especially if one is prepared to slake her endless hunger for dog biscuits.
---
TEHYA'S HAIKU
If it is not food
I can take no interest.
My appetite rules.
---
| Susan | Tycho | Meg | Tessa | Toby | Tucker | Dante | Penny | Gordo |Lucy |Tehya |